DBZ: Super Butoden 2
System: Super Famicom
Release Date: December, 1993


This fighting game chronicles the events that take place during the battle against Cell, and includes a side story about Borjack and his minions (who Gohan, Trunks, Piccolo, and Vegita battled in the 9th Dragon Ball Z movie). Play as Super Saiyan Level 2 Gohan, Piccolo, Vegita, Mirai Trunks, Cell, Cell Jr., Borjack, or Zangya. After entering a secret code, Goku and Broly are also available as playable characters.

There are 3 modes of play, including a story mode which lets you choose different paths and changes depending on the outcome of battles, a one on one versus mode, where you can battle single round matches against a friend or the computer, and a Tenkaichi Budokai Tournament mode in which you and/or your friends choose your champion and see who can fight their way through all of the matches to become the "Strongest Under the Heavens."




Far improved over its predecessor, DBZ Super Butoden 2 has much bigger characters, more interesting scenery, and huge explosions. Also, the inclusion of Meteo combos is a big plus. Now you can hold down buttons to charge up energy quickly and there are no cheap "fly into" knockdowns. Super moves can be fired back in retaliation to the other character's attack, and a struggle for dominance that wears out your thumb ensues. This adds a bit of extra flavor from the show. The story mode is fairly interesting, and having to beat the game with several different characters to learn the cheat code is a great idea. There is one particularly innovative battle field in which the characters fly just above the water or dive down under where the motion is slowed. As you fly over the water, a small wake kicks up behind you...it's a nice touch.

It's worthwhile to note that this is the only Dragon Ball Z game to have Broly -- the Legendary Saiyan -- in it. Many people are big fans of his, and he is a suitably powerful character in this game.

All in all, I would have to say that this is the second best Dragon Ball Z game for the Super Famicom, being outgunned only slightly by Hyper Dimension's graphics and gameplay. Super Butoden 2 is possibly the best of all Dragon Ball Z fighting games that utilize the split screen feature. Although the gameplay can hardly be differentiated from that of Super Butoden 3, the characters available are more varied in this offering. This game can be had for a reasonable price on eBay, and I doubt any Dragon Ball Z fan would be disappointed with it.




FAQs and Codes at Gamefaqs.com

Story mode has good replay value

Broly is a secret character

Perfection of the split-screen combat system

Good music


Combo system not very complex
Special moves are excecuted the same way as in every other DBZ game
Little variety in control among characters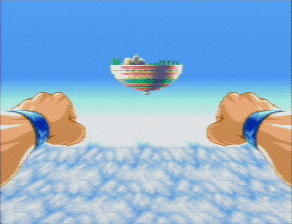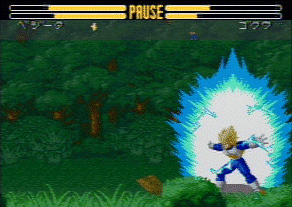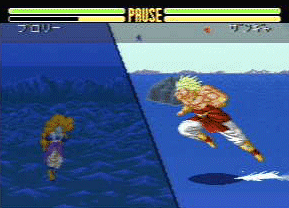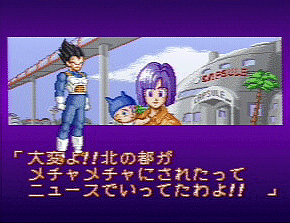 If you don't already have it, download the FREE RealMedia player by clicking this graphic.

buto2_1.rm (718 KB file): A 30 second RealMedia clip of Vegita fighting Zangya in the water battlefield. Vegita fires his Final Flash at her and she fires back, but Vegita's shot overpowers her and she is defeated.